Connect our community with great live music.
Join our team and help support unforgettable musical experiences for our community at a 501(c3) non-profit organization that values excellence, integrity, trust, and communication.
OPEN POSITIONS
Shop Manager / Head Carpenter Video Producer Technical Director
About Utah Symphony | Utah Opera
Utah Symphony | Utah Opera (USUO) connects Utah communities through great live music, serving as the premier provider of the orchestral and operatic art forms in the Intermountain West. The Utah Symphony, which performs at Salt Lake City's Abravanel Hall and is led by Music Director Thierry Fischer, is one of the most engaged orchestras in the nation. In addition to numerous regional and domestic tours, it has embarked on seven international tours and performed at Carnegie Hall in 2016 coinciding with the orchestra's 75th anniversary celebrations. Since 1978, Utah Opera has provided Utah's citizens with distinguished productions at the historic Janet Quinney Lawson Capitol Theatre that showcase emerging and established artists, celebrate traditional works, and champion the American operatic tradition. USUO reaches 450,000 residents annually in Utah and the Intermountain region through its performances and educational programs, which serve more than 155,000 students annually. USUO produces four full operas and more than 175 symphony performances in each season throughout Utah and an annual summer festival – the Deer Valley® Music Festival – in Park City, Utah.
---
Equal Employment Opportunity Statement
Utah Symphony | Utah Opera (USUO) is committed to connecting our community through the performance of great live music. In service of that goal and to create an incredible place to work, USUO prohibits discrimination and harassment of any type and affords equal employment opportunities to employees and applicants without regard to race, color, national origin, gender, gender identity, sexual orientation, age, religion, disability, genetics, protected veteran status or any other characteristic protected by federal, state, or local laws.
---
Title VI of the Civil Rights Act of 1964
Utah Symphony | Utah Opera is in compliance with Title VI of the Civil Rights Act of 1964 which maintains that no person in the United States shall, on the ground of race, color, or national origin, be denied the benefits of, or be subjected to discrimination under any program or activity receiving Federal financial assistance. If you have questions concerning USUO's compliance with Title VI, please contact the office of the President & CEO.
---
National Alliance for Audition Support
Utah Symphony | Utah Opera is proud to be a partner in the National Alliance for Audition Support (NAAS), an unprecedented national initiative to increase diversity in American orchestras. The Alliance does so by offering Black and Latinx musicians a customized combination of mentoring, audition preparation, financial support, and audition previews. NAAS is a partnership between the Sphinx Organization, League of American Orchestras, New World Symphony, and over 100 orchestras across the nation and is funded by a generous grant from the Mellon Foundation and contributions from the member orchestras. Learn more at www.auditionalliance.org.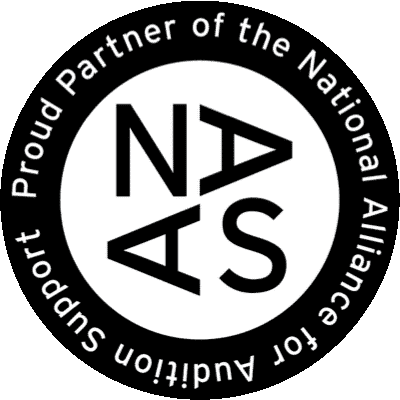 ---
Benefits & Perks at Utah Symphony | Utah Opera
Benefits
Full-time staff receive health coverage (USUO pays 100%), 401(k) contribution plan, and paid time-off and holidays.
Free Tickets
Staff receive complimentary and discounted tickets to Utah Symphony and Utah Opera performances.
Work that Matters
Music touches lives for good and enriches our community. Be part of an organization that brings beauty and happiness to the lives of people all over the state.
The staff supports USUO's mission to connect the community through great live music by doing everything from promotion and fundraising to artistic planning and operations. View and apply for open positions below.
---
Open Positions
Shop Manager / Head Carpenter
UTAH SYMPHONY | UTAH OPERA seeks candidates for Shop Manager / Head Carpenter to oversee and participate in running the Utah Opera Scenic Studios. This position works with the Technical Directors to execute the construction of scenery for performing art and commercial productions. They assist with the scenic bidding process, help select over hire, instruct and oversee building of scenic elements and assure that a high-quality standard is met. Assists with load in and load out of the theater as needed. Shop manager maintains inventory and general stock of building materials.
Candidate must be proficient in the following responsibilities: reading and executing design & construction drawings, wood working, ferrous and non- ferrous metal fabrication, building with plastics and alternative materials, the proper use and maintenance of tools, theatrical rigging, and a working knowledge of AutoCAD preferred. Candidate should be a graduate of an accredited technical theatre program or have relevant work experience. Experience in a professional theatre producing large scale scenery preferred. Candidate should be highly organized, detail oriented, have strong written and verbal communication skills, management experience, the ability to operate well under pressure, value a safe work environment and work well in a team atmosphere. Experience with IA union crews preferred. This is full-time, salaried, exempt position with competitive pay and excellent benefits.
Please apply online. Application materials should include a resume and cover letter.
---
Video Producer
JOB OVERVIEW:
The Video Producer creates multimedia content to support marketing, fundraising, educational, and institutional storytelling goals for Utah Symphony | Utah Opera. The Video Producer has primary responsibility for coordinating, filming, and editing video and audio content including, but not limited to, performances and rehearsals, special events, educational events, and interviews, in addition to shared responsibility for capturing and editing photography.
ESSENTIAL RESPONSIBILITIES INCLUDE:
Under the guidance of the Director of Communications and with input from the Social Media & Content Manager and/or other staff members, propose and develop concepts for video content to promote ticket sales, support fundraising efforts, and effectively tell stories about USUO's performances, education/community engagement programs, and artists.
Plan pre-production aspects including storyboarding video concepts, budgeting, and coordinating filming logistics with artists, venues, and other necessary parties. Assist in scripting content as needed.
Set up cameras, lighting, sound, and other equipment for multimedia captures.
Supervise and direct as needed on-scene to ensure a high-quality final product.
Capture video footage including performances and rehearsals, special events, educational activities, audience b-roll, and interviews. Capture and edit audio recordings as needed.
Edit video footage and produce final videos for use in communications channels including web, social media, email, and television.
Create graphics, title cards, and end cards for use in video content.
Ensure that videos are properly vetted and approved, including tracking artist approvals of video footage, before handing off for distribution; ensure multimedia capture and distribution follows artist contracts and agreements; know and monitor Local 104 CBA regulations and restrictions for orchestra video/audio recording.
Assist in posting video content to USUO website and social media channels as needed.
Arrange, oversee, and coordinate third party contractors for large-scale video productions.
Coordinate and create pre-performance and lobby slides and videos for use at performances.
Coordinate proper logging, tagging, storage, and archiving of video material.
Share responsibility for capturing photography at performances, rehearsals, special events, and education programs.
Share responsibility for creating video ads for USUO advertising campaigns.
Establish and maintain quality working relationships with staff, artists, and contractors.
Perform additional marketing and communications duties as assigned.
REQUIRED SKILLS / ABILITIES:
A minimum of 3 years of professional experience capturing, editing, and producing video material
Proficiency in Adobe Creative Suite with experience in Adobe Premiere Pro CC, After Effects, Photoshop, and compression programs
Strong camera skills and experience shooting with a variety of camera formats; technical understanding of studio lighting, sound setup, and audio engineering
Demonstrated experience with video pre-production, production, and post-production processes
Portfolio of production work that demonstrates a range of skills and scope of content
Knowledge of current industry standard audio/video file formats
Knowledge of best practices, trends, and content strategy on social media platforms including Facebook, YouTube, TikTok, and Twitter
Proficiency with photography and photo editing
Working knowledge of graphic design; experience with animation and motion graphics
Basic knowledge of website content management software and HTML preferred
Strategic and creative thinker with a deep commitment to quality and attention to detail
Proven ability to set objectives, prioritize, organize tasks, and assign resources
Expert problem-solver able to re-prioritize and evolve techniques and ideas as needed in a fast-paced and dynamic environment
Team player able to work effectively in a collaborative environment as well as independently
High level of professionalism, with excellent time management skills and written and verbal communication skills
Able to exercise discretion and keep strictest levels of confidentiality
Interest in and knowledge of symphonic music and/or opera
Ability to work extended hours as needed, including evenings, weekends, and occasional holidays; flexible hours during the week
PHYSICAL REQUIREMENTS:
Ability to sit and stand for long periods of time
Ability to twist, bend, reach, and lift up to 20 pounds
Reasonable accommodations will be made for anyone needing them to perform the essential job functions and physical requirements listed above.
Please apply online. Application materials should include portfolio, cover letter, résumé, and references. Additionally, we invite applicants to include a creative self introduction video.
---
Technical Director
JOB OVERVIEW
The Technical Director is a detail-oriented individual with strong organizational and interpersonal skills to help coordinate and supervise all technical aspects of Opera productions, rental and construction projects, as well as occasional Symphony related productions and concerts. Candidate should be self-motivated and willing to look for ways to improve the work environment. This job requires adherence to high standards, a strong sense of responsibility, enthusiasm, and ability to work nights and weekends. Candidate should possess the ability to operate well under pressure, with a positive and dedicated problem-solving attitude, while being adaptable to new situations and changing priorities.
ESSENTIAL RESPONSIBILITIES INCLUDE:
Supervise Technical Department staff including, including but not limited to, Prop Master, Charge Artist, Carpenter(s)
Prepare and Supervise the load-in/out of all productions
Manage rehearsals and run of show in the Capitol Theatre
Serve as liaison with IA; manage crew calls and contract adherence
Prepare construction drafting for projects to be built in the shop
Prepare ground plans, sections and other technical drawings for productions
Manage contracts for scenery rentals
Supervise the scheduling and load-in/out of scenery rentals
Serve as show tech on scenery rentals
Advise on and analyze future build projects, rebuilds and stock inventory
Scene shop maintenance and improvement
Shop vehicle maintenance including fork lift and pickup truck
Other duties as assigned.
REQUIRED SKILLS / ABILITIES:
Self-motivation, looking for ways to improve collaboration and processes
Ability to work nights and weekends as needed for productions
Excellent time and priority management
Knowledge of following programs required: AutoCAD, VCarve or CNC programming equivalent
Proficient with Microsoft Office Suite or related software, Excel
EDUCATION / EXPERIENCE
BA (MFA preferred) in technical theatre or equivalent work experience in related field required
PHYSICAL REQUIREMENTS
Must be able to lift 50 pounds at times.
Please apply online. Application materials should include cover letter, résumé, references and drafting sample (pdf acceptable). Applications without a cover letter will not be considered.
---