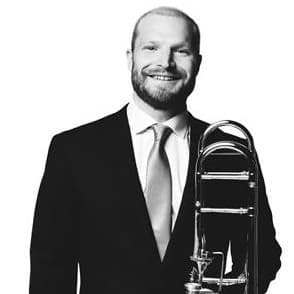 Mark Davidson
Utah Symphony Principal Trombone
Musician Representative on the USUO Board of Trustees since September 2016
Mark Davidson, a native Texan, started playing the trombone at age 11. He began his studies under the guidance of James Wallace within the Plano, Texas school district music programs before attending the University of North Texas, where he received his Bachelor's of Music Education in 2006. During his studies, Mark was a student of Jan Kagarice and Tony Baker, and received the Most Outstanding Undergraduate Award while studying at UNT. After graduation, he went on to attend The Juilliard School and studied with Joseph Alessi, Principal Trombone of the New York Philharmonic. During this time, Mark also attended the Pacific Music Festival in Sapporo, Japan and was the winner of the International Trombone Association's Lewis Van Haney Tenor Trombone Competition.
In 2007, Mark was appointed Assistant Principal/Second Trombone of the San Antonio Symphony. In 2009, Mark was the Acting Second Trombonist of the Cincinnati Symphony and for the 2010 season, he was the Acting Principal Trombonist of the Baltimore Symphony Orchestra. In 2011, he returned to the San Antonio Symphony and also performed as a member of the San Antonio Brass Quintet. Most recently he joined the Utah Symphony Orchestra in the fall of 2013 as Associate Principal/2nd Trombone and was appointed Principal Trombone during the 2015 season. He was elected by his musician colleagues to represent them on the USUO Board of Trustees and Executive Committee for a two-year term beginning September 2016 and served as Orchestra Committee chair during the 2017-18 Season.
Mark has also performed with several other orchestras including the Houston Symphony, Kansas City Symphony and the Naples Philharmonic. In addition, he has been on the faculty of the Baltimore Symphony Orchestra Academy and has presented master classes and recitals at schools such as the Peabody Institute of Music, Shepherd School of Music, and Temple University. As a strong advocate for the advancement of brass playing in the state of Utah along with a passion for teaching, Mark founded the Mountain West Trombone Workshop, an annual event that brings players from around the country to Utah with the mission to elevate and inspire musicians of all ages living in the region. In addition, Mark is a Shires Artist and frequently performs clinics and recitals/masterclasses around the country on behalf of the S.E. Shires company. Mark currently serves on faculty at The University of Utah as Lecturer of Trombone.
Mark spends time away from the USUO with family and friends, cycling, reading, and planning home improvement projects.