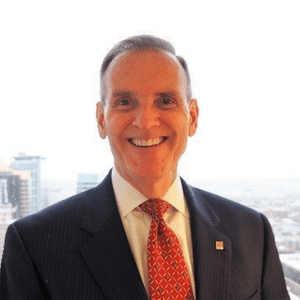 Barry L. Eden
(retired) EY Partner, Financial Services Office Leadership
Finance Committee Chair
USUO Board member since September 2021
A recently retired executive from EY (formerly known as Ernst & Young), Barry Eden served in various leadership and client serving capacities during his career at the firm. Just prior to his June 2021 retirement, he was part of the Financial Services Office (FSO) leadership team for EY. He has been active in steering the strategic direction of the FSO's Banking & Capital Markets (BCM) practice over the past 20 years.
Mr. Eden has a proven track record of outstanding leadership, strategic thinking, operational excellence, and talent management, including diversity and inclusiveness. In addition to his FSO leadership roles, Mr. Eden served as the Coordinating Partner for several Fortune 500 clients where he was responsible for driving relationships with management and the Board. He did this through the dot.com bust, the Great Recession, and into the pandemic. His focus has been on being pragmatic, honest, forthright, and doing the right thing for investors in the capital markets; all while maintaining superior relationships with management and the Board.
Before arriving at EY, Mr. Eden worked his way through college holding various jobs with a focus on relationship management (retail, work-study, residence halls). He is a 1983 Cum Laude graduate of West Virginia University and a member of Beta Alpha Psi. Given the limited resources at the time and his wish to minimize education debt, he bypassed graduate school and went straight to work for EY. He and his wife, Traci Eden, have two children and currently live in Sandy, Utah. He was elected to the USUO Board of Trustees in September 2021, is Chair of the Finance Committee, and additionally serves on the Executive and Audit Committees.